Jenny Wakeman VS Robotboy is a western-american upcoming TV series and is considering as a revival of Robotboy and My Life As A Teenage Robot.
This series will be coming soon on January 12th,2017.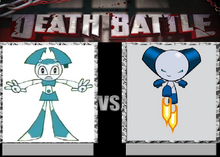 Synopsis
Edit
Fearing that his interaction of his powers have left him unchecked, teenage 16 year old robot response unit, Jenny Wakeman clashes with San Francisco's most reverend robot defense,Robotboy, but secretly admire of Robotboy's Super Activated Mode,While the world wrestles for what kind of heroes it really needs. But when a dastardly Dr. Kamikaize had made contact with a pair of familiar foes---the very same foe that once threaten Jenny's home town.
Ad blocker interference detected!
Wikia is a free-to-use site that makes money from advertising. We have a modified experience for viewers using ad blockers

Wikia is not accessible if you've made further modifications. Remove the custom ad blocker rule(s) and the page will load as expected.